Bag Policy
Toyota Field allows bags up to 12″x12″x6″ in size. Exceptions include, but are not limited to, medical or childcare bags, or any bag Toyota Field event security management approves upon inspection. Fans with non-approved bags will be asked to return them to a vehicle.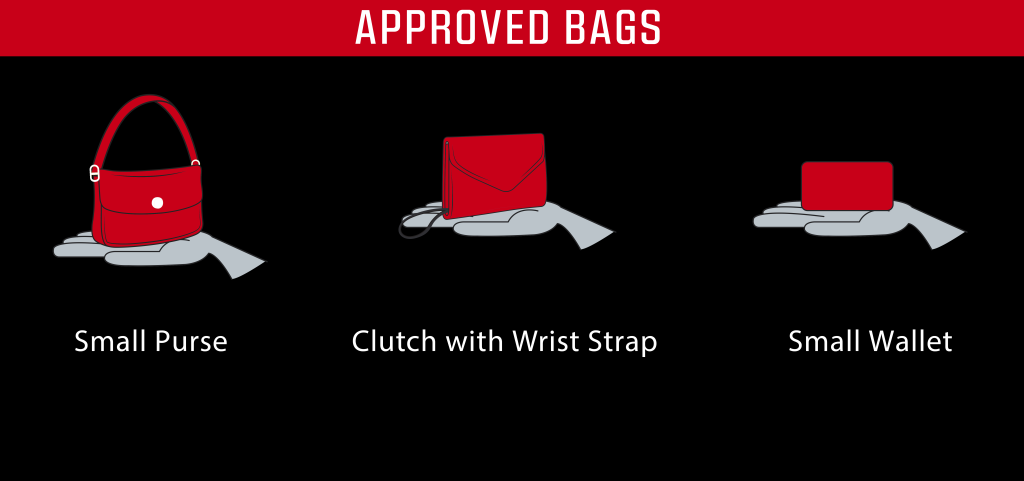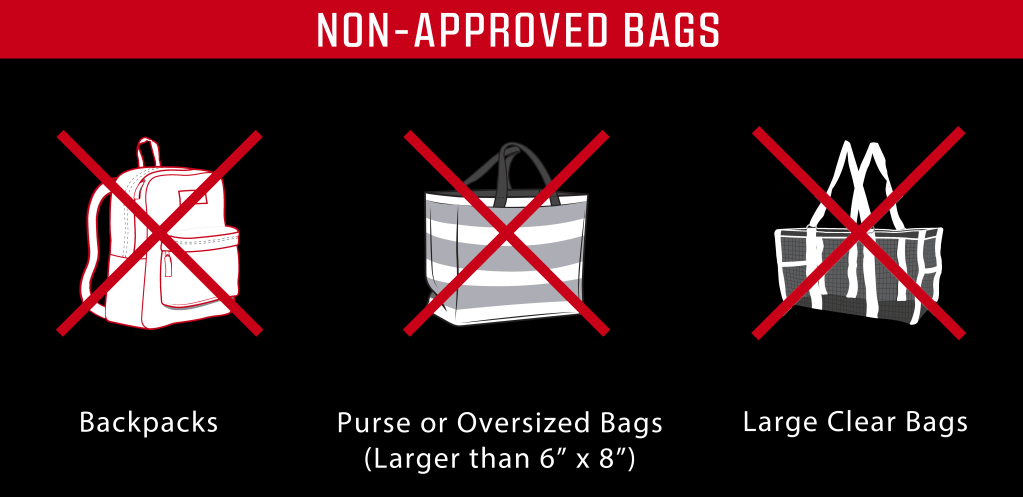 Inclement Weather Information
Blankets are allowed in the stadium. Umbrellas will not be permitted at Toyota Field, please plan accordingly for rain. Rain jackets and ponchos are encouraged as an alternative.
Prohibited Items
Bags, coolers, bottles, cans, food, and other containers are prohibited.
Example Items that are prohibited during all events at Toyota Field (this list is not all-inclusive):
Balls
Bottles (glass, thermos, cans)
Brooms
Cameras with detachable lenses or lenses longer than 3" when extended
Chains (metal)
Costumes (dangerous in nature) including nunchucks, pitchforks, sling blades, axes, swords, whips, nooses, etc.)
Electronic Cigarettes
Flasks
Guns (real, toys)
Knives or Multi Tools (pocketknives, switchblades, lock-blades, throwing stars, scissors)
Large Purses or Backpacks
Large Hats or Signs
Laser Pointers or Laser Pens
Mace (pepper or tear gas)
Noisemakers
Poles or rods of any kind, this includes selfie sticks
Sticks of any kind
Swords (Plastic, Metal)
Umbrellas
Video Cameras
USL Code of Conduct
In an effort to foster a safe and comfortable atmosphere, the following fan guidelines are instituted at all USL matches:
Fans will be respectful towards the players, staff, officials, and fellow fans.

Fans will refrain from displaying signs, symbols, images, using language, or any other actions that are threatening, abusive, or discriminatory, including, but not limited to, on the basis of race, ethnicity, national origin, religion, gender, gender identity, ability, and/or sexual orientation.

Fans will follow directions from venue staff regarding compliance with the Fan Code of Conduct, stadium policies, and emergency procedures.

Fans that consume alcohol will be of legal age and do so in a responsible fashion.

Fans will not behave in ways that are unruly, disruptive, inappropriate, or illegal in nature.

Fans will not fight or incite violence.

Fans will not damage property either inside or outside the venue.

Fans will not interfere with the progress of the match including entering the playing field or the surrounding area, throwing objects, including throwing objects on or towards the field or declining to promptly return a ball that has gone out of play.

Violation of the Fan Code of Conduct will result in sanctions as deemed applicable by the United Soccer League office and Member Club including but not limited to warnings, ejections, venue bans, removal of supporter privileges, or arrest.