What do I need to do to keep my seat(s), tenure/Priority, & benefits for next season?
Conveniently, no action is required to continue your Membership – your seat location(s) (Full Season only), STM Loyalty Pricing, full benefits, priority number/tenue, will remain intact and auto-renewed. Not to mention, all STM's renewed for 2024 by September 28, 2023 will be eligible for the following ADDITIONAL new benefits/perks for next season: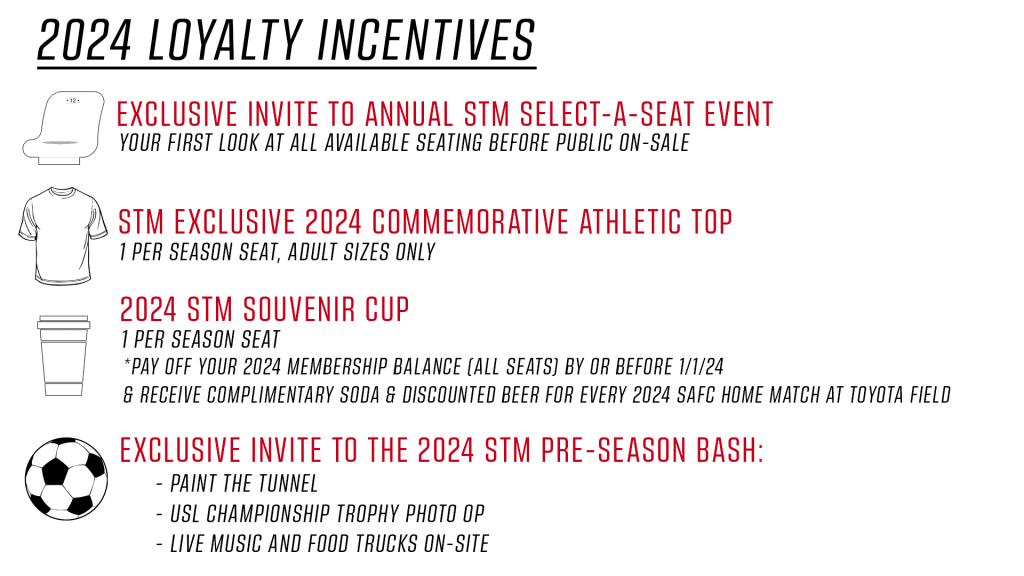 All STM's will receive their 2024 Auto Renewal notice on 8/29/2023 which will entail all account information, 2024 pricing, benefits, financial options, etc. If you have any questions at all, please contact your Membership Service Rep.
FOLLOW US:
---
When do I need to make a decision regarding my Membership for the 2023 season?
The deadline to make any changes to your SAFC Membership for the upcoming season, including cancelling, is September 28, 2023 at 5:00 p.m. On September 28, 2023, all Membership statuses will be confirmed for the upcoming season and payment plans for the 2024 season will commence.
---
If I am interested in relocating my season seats for 2024, when can I do so and what will pricing look like?
As long as you have renewed your Membership for 2024 by September 29 and account is in good financial standing, you will automatically be invited to our annual Select-A-Seat event in October. This grants all renewing STM's the exclusive benefit to view all available seating for the 2024 season before the public. You will also be able to take advantage of our Loyalty Pricing which will already be set on your account for auto-renewing!
---
How do I opt out of my 2024 Membership?
You may opt-out of your 2024 Membership at any time before 5:00 p.m. on September 28, 2023. Please complete the required form here for your cancellation of your seats and/or Membership. This will be only option to officially opt out of your Membership for 2024. If we do not receive your opt-out form by the above date and time, your Membership will be auto-renewed on 9/28/2023 with the first auto-charge going through on Friday, September 29, 2023.
NOTE- by opting out of your 2024 Membership, you will NOT be eligible for the above add-on benefits, lose your seat location(s), no longer qualify for your STM Loyalty discounted pricing, tenure (consecutive years of loyalty w/the club), and all STM benefits.
---
How do the 2024 benefits compare to last season?
We are offering a robust benefits package similar to the 2023 season that includes year-round access, flexibility, gifts, exclusive discounted pricing, and VIP events. All Members who renew by September 28 will qualify for every SAFC Family Member benefit, as well as our NEW 2024 Loyalty Incentives, which can be found below.
For a full list of 2024 Membership benefits, visit https://www.sanantoniofc.com/stm-headquarters.
---
What are the Membership prices for 2024 and how do they compare to the current season?
As a thank you for your support and dedication, we are offering all renewing members only an exclusive 'Loyalty Pricing' rate for their 2024 Membership for next season. As long as you have renewed your Membership for 2024 by September 28, 2023, your 'Loyalty Pricing' is locked in. After this date, all pricing will go up and shift to our 2024 NEW STM pricing.
---
In regards to Mobile Ticketing – what are my options to enter Toyota Field in 2024?
As you are aware, SAFC has moved to a 100% mobile ticketing platform to provide our fans with contactless entry, convenience, and ticket security. Visit https://www.sanantoniofc.com/mobiletickets for a step by step on how to manage your tickets on the SAFC app. If you still have questions or forgot your personal login credentials, please contact your Membership Service Representative and they will be happy to get you taken care of.